It's been a tumultuous two years for business across the country, and even now things don't seem to want to settle. The uncertainty in the market, including staff shortages, supply issues, rising prices, and the twists and turns of COVID, have made it increasingly difficult for businesses to cope. So, where to from here? For guidance, we hear from leading corporate psychologist and Managing Director of Barrington Centre, Rhonda Andrews.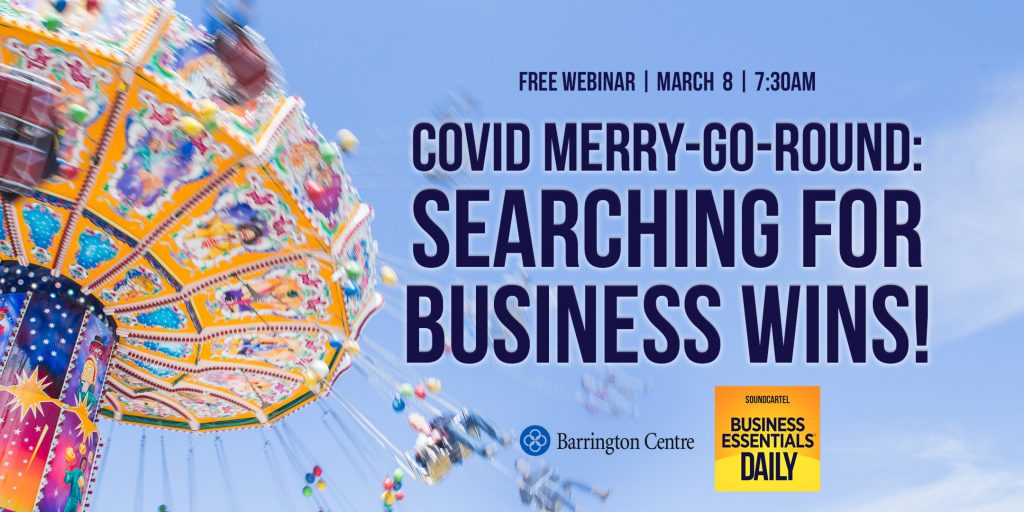 COVID MERRY-GO-ROUND: SEARCHING FOR BUSINESS WINS!
A panel of industry experts discuss both the challenges for business and how to address them from the perspective of people, business and health.
The panel discussion will be introduced by Neville Norman, Professor of Economics, The University of Melbourne.
DATE: Tuesday, 8 March 2022
TIME: 0730 – 0830
PANELISTS:
– Dr Catherine Kelaher – Principal Medical Advisor, Office of Health Protection, Australian Government Department of Health, ACT
– Rhonda Andrews, Managing Director and Principal Psychologist, Barrington Centre
– John Di Natale, Mentor, Keynote Speaker, Coach and Author
Register for the free webinar at:
COVID merry-go-round: Searching for Business wins! Tickets, Tue 08/03/2022 at 7:30 am | Eventbrite